Do you make good grades, help others, and want to be a Leader? WE WANT YOU! The first Beta Club Meeting has been changed to a VIRTUAL MEETING. Check out the RHMS Beta Page on the School website for the Google Classroom Code. You will find the Google Meet icon at the top of the page in our Google Classroom. We hope to see you! #WeAreRHMS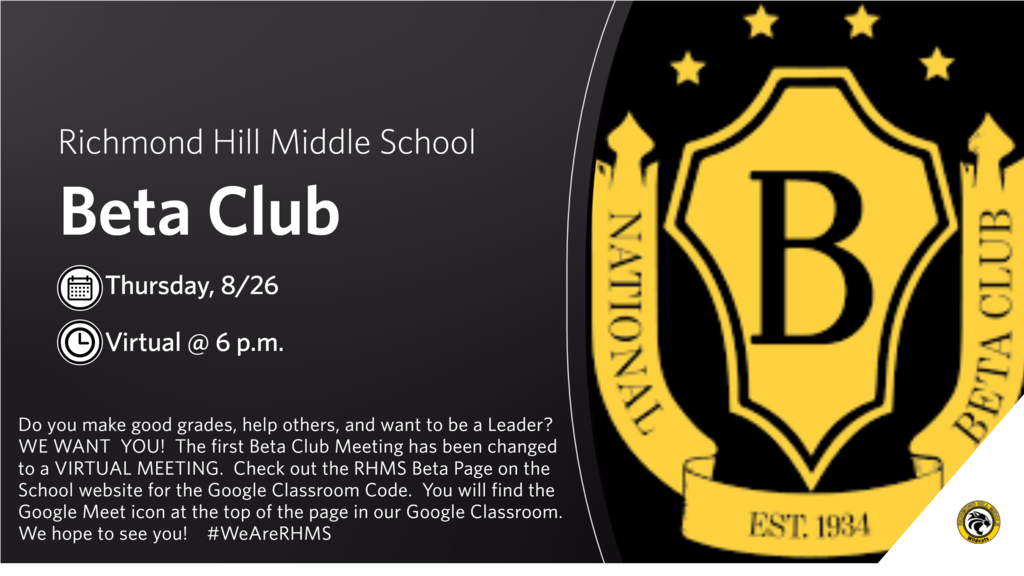 Interested in trying out for the RHMS Tennis Team? Tryouts are Monday, August 23rd through Thursday, August 26th at Devaul Henderson Park Tennis Courts. Students will ride the bus over to the courts. Parents will pick students up at 6:00 p.m. from the park. See flyer for more info! #WeAreRHMS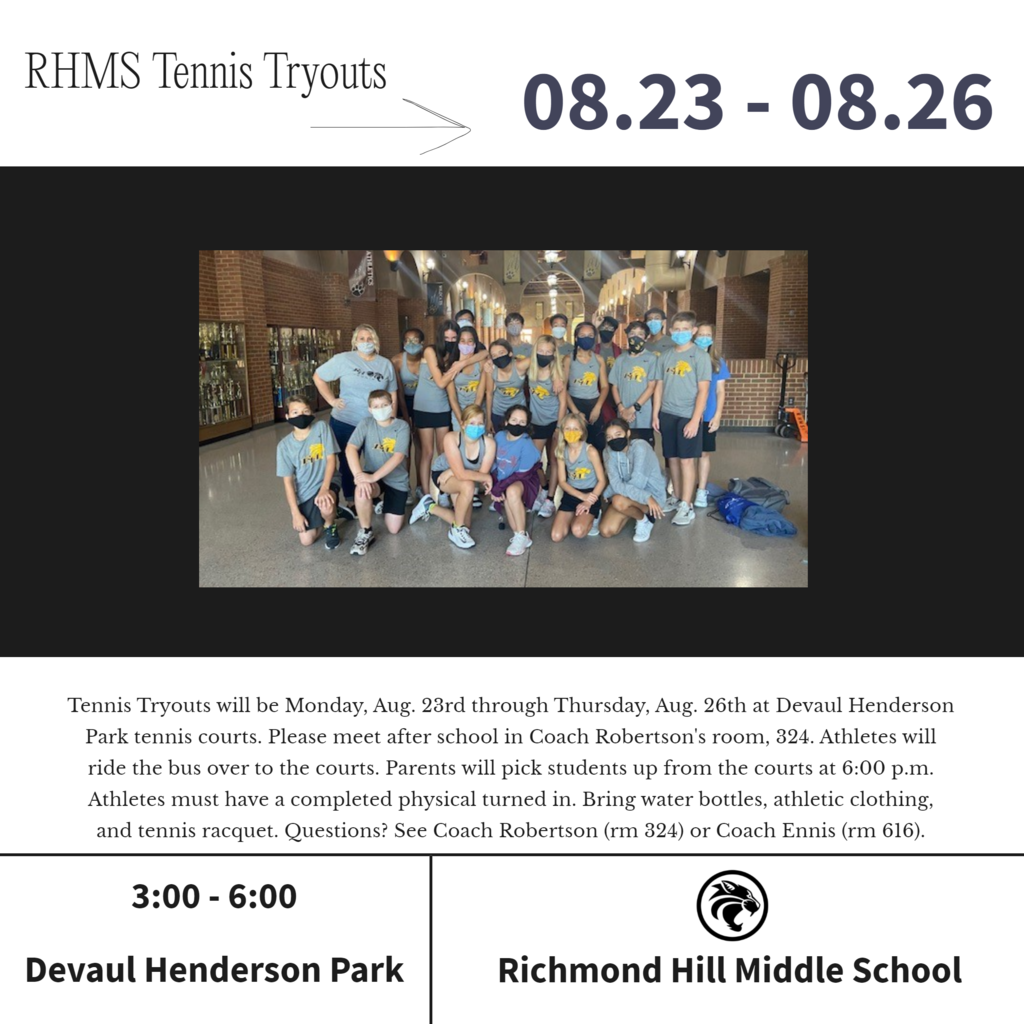 BCS IS LOOKING FOR PARENTS!! Did you know that employees of Bryan County Schools who live out of district can make application for their children to attend school in Bryan County? We have immediate openings in Transportation (bus drivers), Operations (custodians), and School Food Nutrition (school nutrition workers), and these positions have hours that can work around your child's school schedule. If you are interested in one of these positions, please contact Debi McNeal, Director of Human Resources, at
dmcneal@bryan.k12.ga.us
, or call 912-851-4000.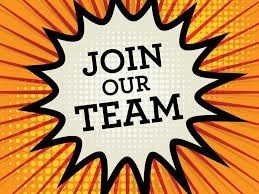 Bryan County Schools would like to hear from you! We are asking all families in the district to complete this survey (link below). The collected data will assist our district with obtaining local, state, and federal funds to provide additional resources to Bryan County students and their households. Survey window will close on August 10th at 11:59 PM. Thank you in advance for participating and for your responses!
https://forms.office.com/r/NR70Fwadai

Click on the following link to check out our 2021-2022 Back to School newsletter!
https://5il.co/vnns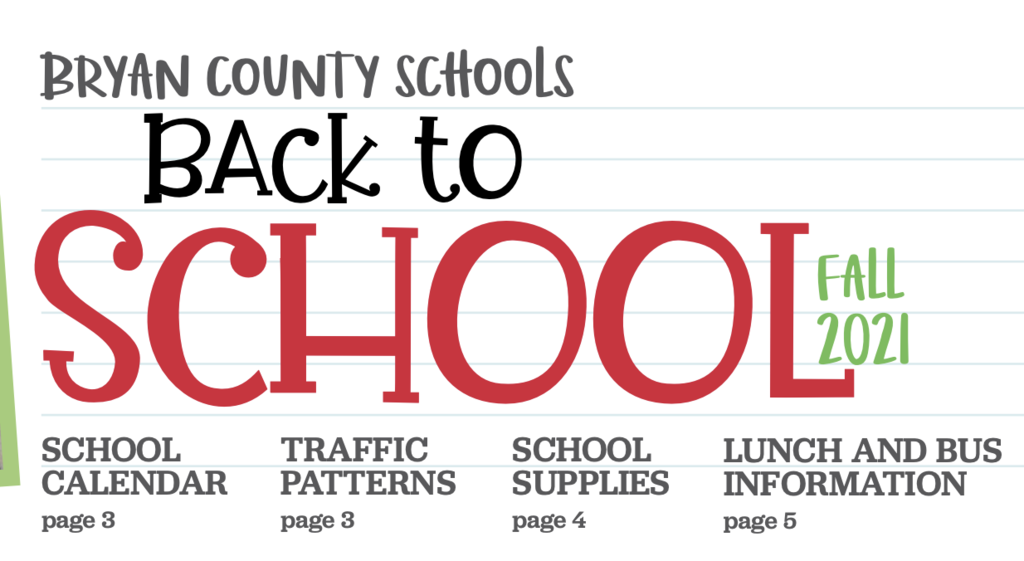 CONGRATULATIONS TO OUR RETIREES! We would like to say thank you for your combined 397 years of service to Bryan County Schools! Your contributions can never be measured and we wish you all the best in your retirement! Our Bryan County Schools Retirees: Teresa Houghton - MES Dawn Marie Kennedy - LPS Kerrin Daniel - LPS Alice Dowd - LPS Nancy Mosely - LPS Gay Wilson - MES Lynn DeWitt - RHES Kara Vanderheyden - RHES Shelena Bentley - RHES Sandi Lynch - RHHS Debora Rice-Reagan - RHMS Sheri Rushing - RHMS Renna Dasher - RHPS Gayla Moore - RHPS Sherree Teston - South Transportation Kelly Newman - GWC Wayne Carter - Community Education Varina Moser - GWC

We are super proud of our graduates! Best wishes on your next adventure!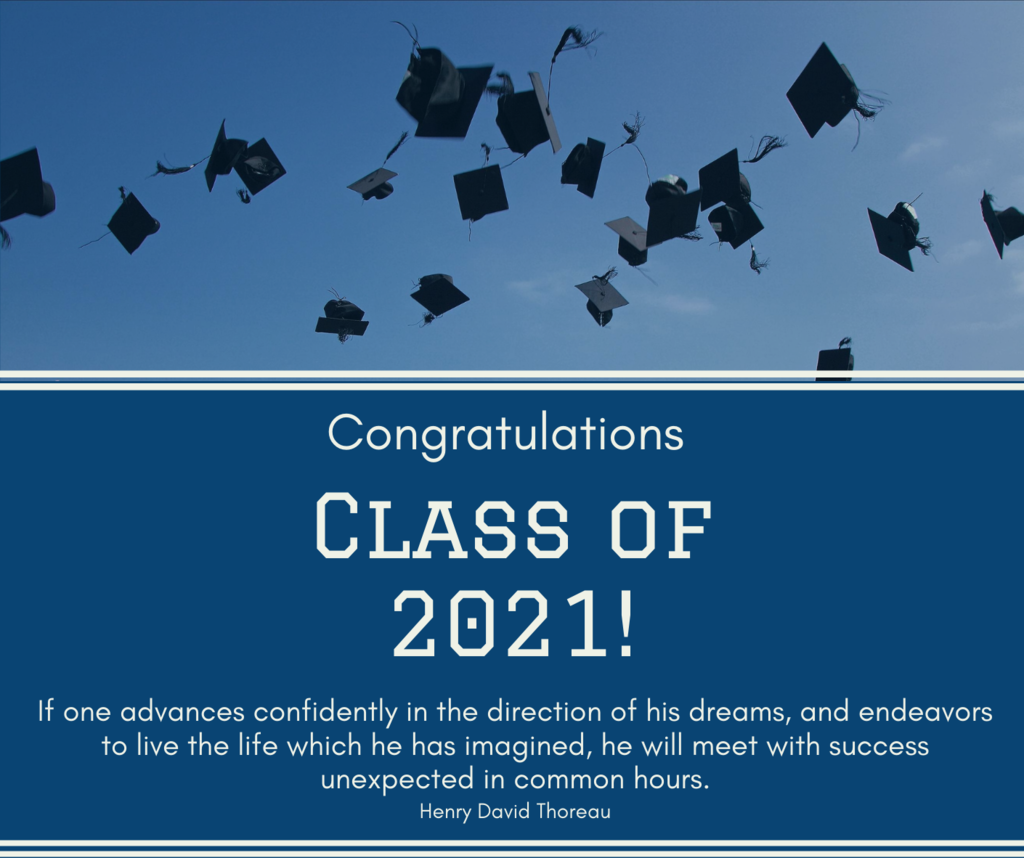 May 3rd - 7th is Teacher Appreciation Week and we'd like to thank our teachers for the amazing work they do for our students! We may be a little biased, but Bryan County Schools has THE BEST teachers around!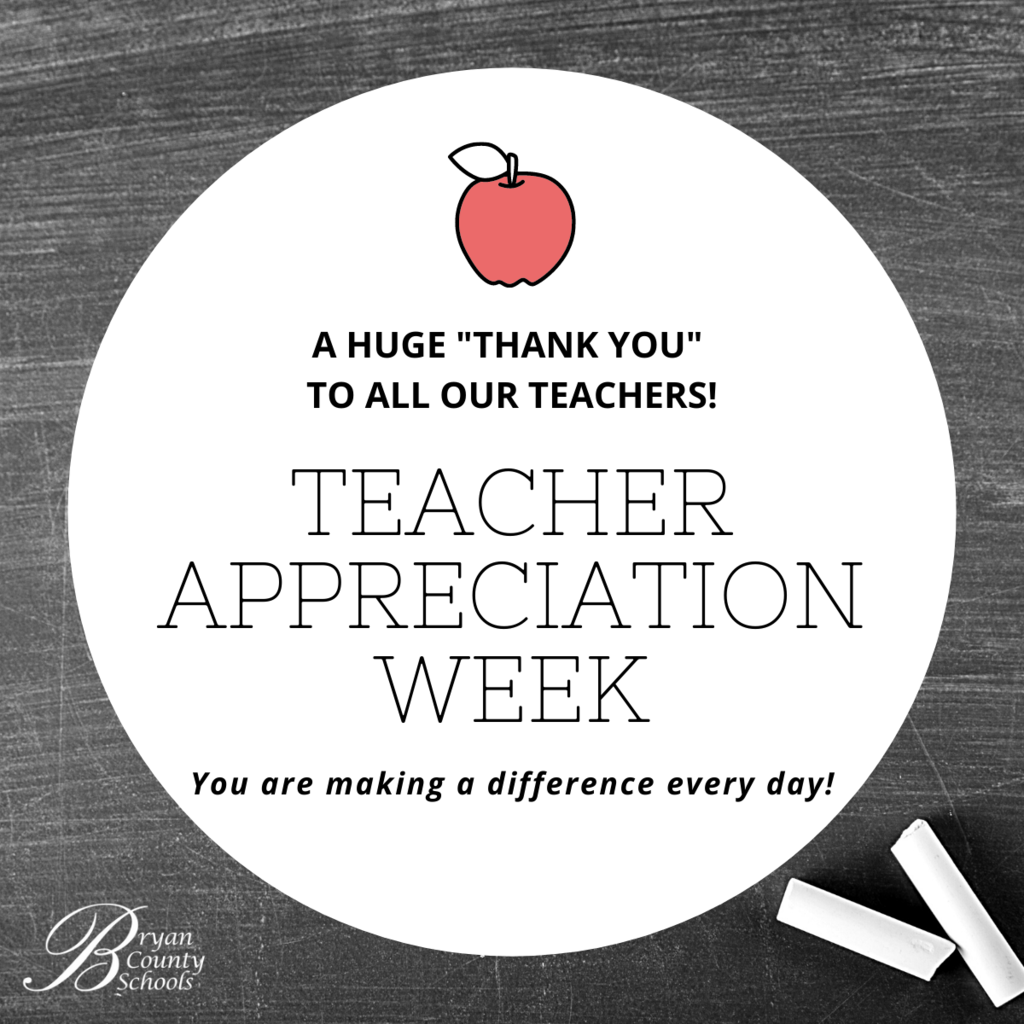 Have a fantastic Spring Break! Stay safe! We will see you on Monday, April 12th!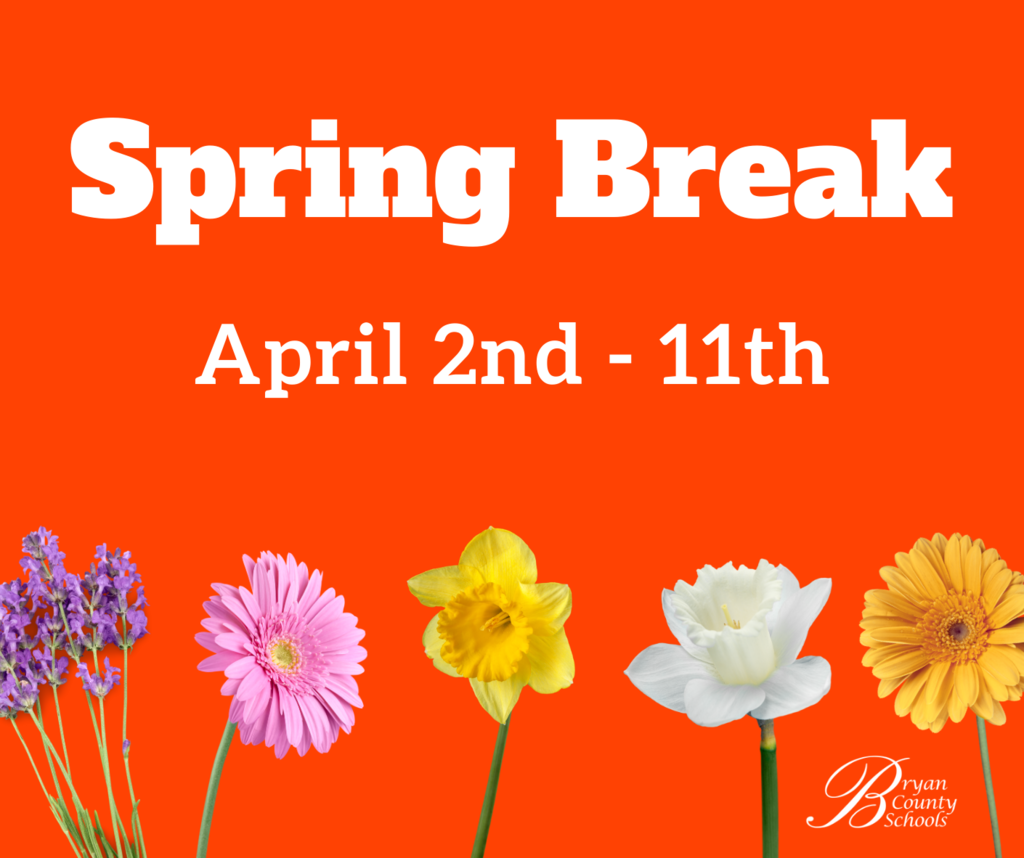 We would like to recognize our School Board members this week. These dedicated people help ensure excellence and are committed to quality in our schools. We appreciate their support of our students, families, and staff! Happy Georgia School Board Appreciation Week!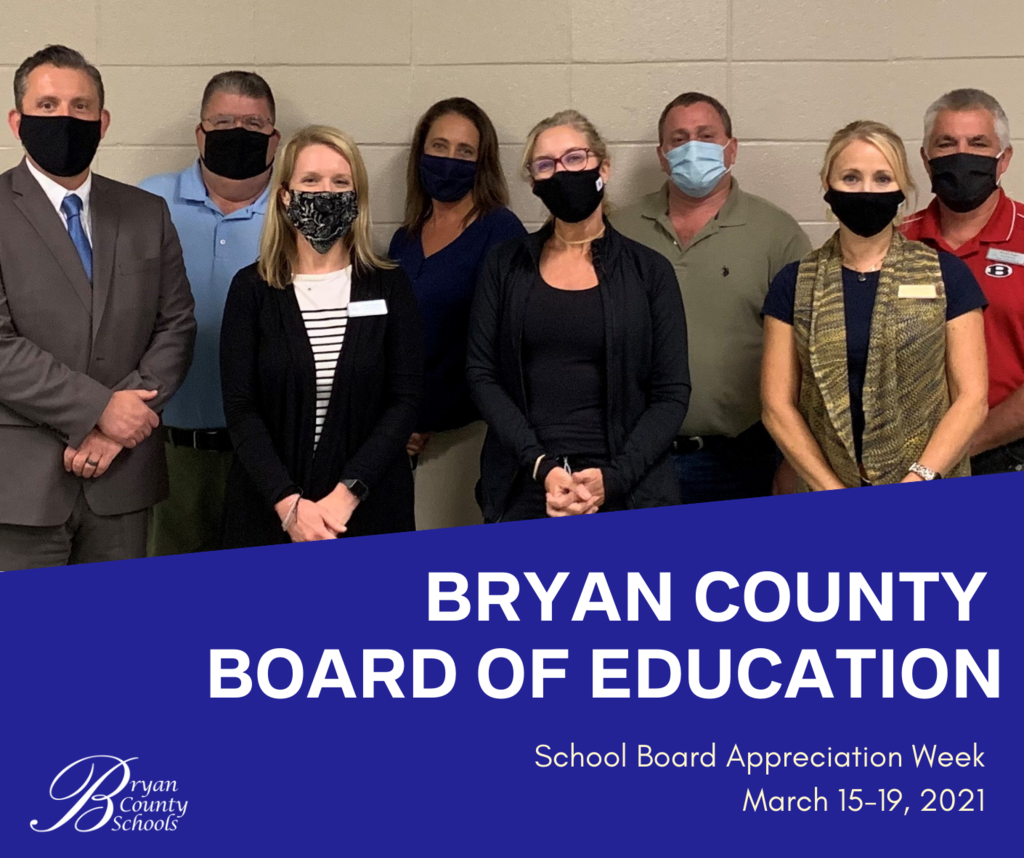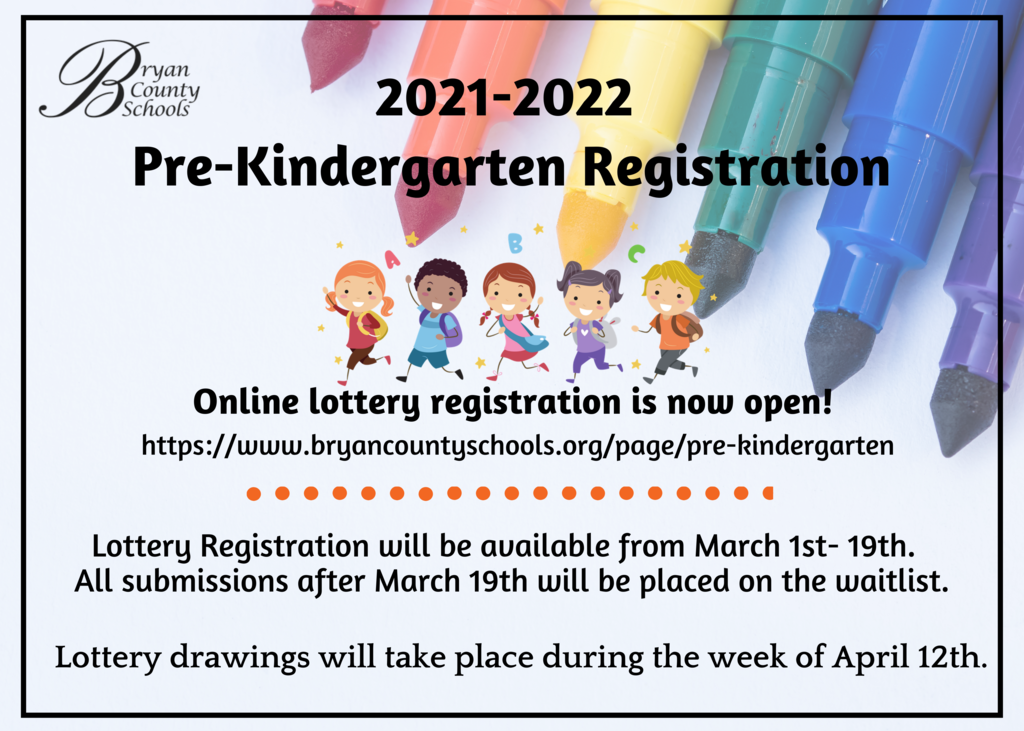 We hope our students have a safe and enjoyable extended weekend! See you on Wednesday!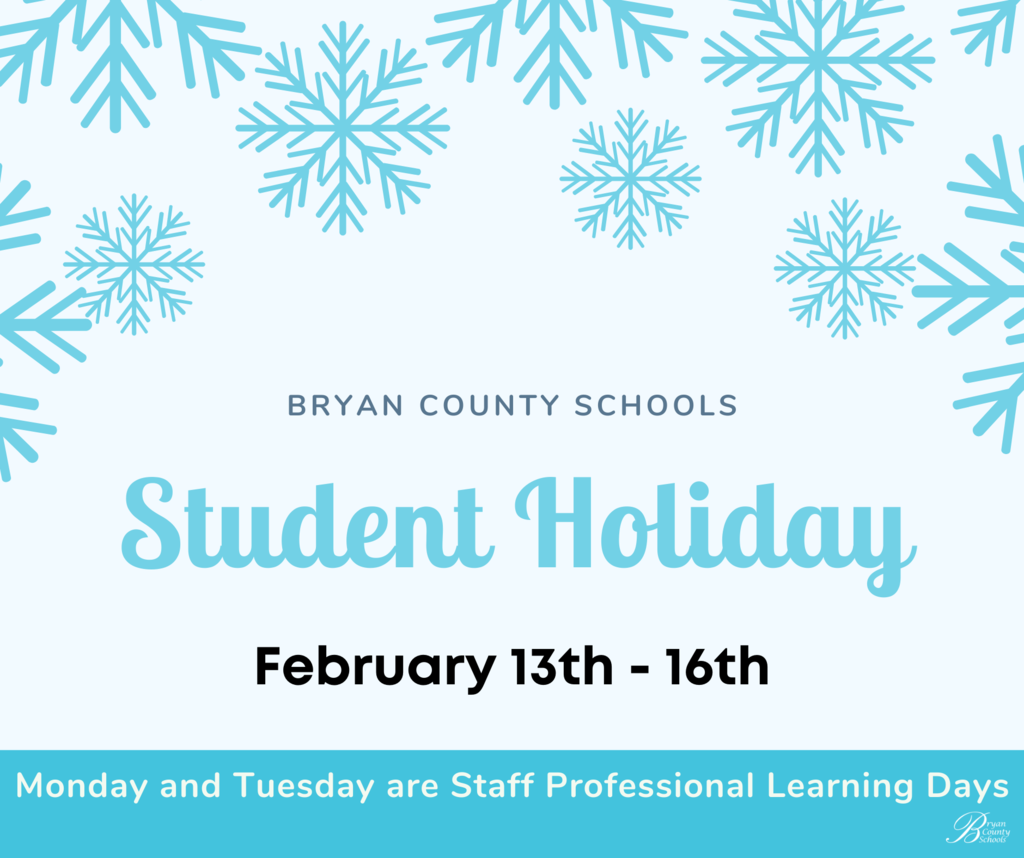 We hope you have a safe and enjoyable break! See you in January!

Dear Parents/Guardians, Bryan County Schools will continue offering traditional and e-Learning school environments, January through May. Except for those students who have not met the e-Learning requirements, all students will remain in their present environments unless a transfer form (see below) is submitted online. For those who want to transfer to a different learning environment, our open transfer window begins now and will remain open until midnight on November 6th. Please understand that approved transfers will not go into effect until January 6th. Due to the possible large number of students changing environments, in January we could see significant class changes at the middle school and elementary school levels. You will be notified by December 18th, if your child(ren)'s classes are changed. If you wish to transfer to a different environment, please click on the appropriate link below and complete the brief questionnaire. IMPORTANT: If you want your child(ren) to remain in their current learning environment no action is needed. Transfer to Traditional/ Face to Face Classrooms:
https://docs.google.com/forms/d/e/1FAIpQLSel_lmtI5SjS5evgsf_9UcdfmMYl1nhstKSetumWUCLzE8J8g/viewform
Transfer to e-Learning school environment:
https://docs.google.com/forms/d/e/1FAIpQLSe1G8YjWf3X1HJ_imNTY0NNSQG4NxdVSAPGAAi3fJN2Wh5gIA/viewform

Dear Parents/Guardians, Bryan County Schools will continue offering traditional and e-Learning school environments, January through May. Except for those students who have not met the e-Learning requirements, all students will remain in their present environments unless a transfer form (see below) is submitted online. For those who want to transfer to a different learning environment, our open transfer window begins now and will remain open until midnight on November 6th. Please understand that approved transfers will not go into effect until January 6th. Due to the possible large number of students changing environments, in January we could see significant class changes at the middle school and elementary school levels. You will be notified by December 18th, if your child(ren)'s classes are changed. If you wish to transfer to a different environment, please click on the appropriate link below and fill out complete the brief questionnaire. IMPORTANT: If you want your child(ren) to remain in their current learning environment no action is needed. Transfer to Traditional/ Face to Face Classrooms:
https://docs.google.com/forms/d/e/1FAIpQLSel_lmtI5SjS5evgsf_9UcdfmMYl1nhstKSetumWUCLzE8J8g/viewform?pli=1
Transfer to e-Learning school environment:
https://docs.google.com/forms/d/e/1FAIpQLSe1G8YjWf3X1HJ_imNTY0NNSQG4NxdVSAPGAAi3fJN2Wh5gIA/viewform?pli=1



Bryan County Schools Parents and Guardians, Your child's 1st 9 weeks Progress Report is ready for you to view. You can see the progress report using the parent OR the student portal in PowerSchool. For detailed directions on how to get a Parent Portal account, how to access your child's PowerSchool account, view teachers' comments and view elementary school's work habits rubric click below: Bryan County Schools Progress Report Information

Come cheer on and support our teams today and tomorrow! SOFTBALL BCHS vs. Atkinson County 10/20/20 @ 4:30 p.m. w/2nd game to follow – HOME RHHS vs. Evans County 10/20/20 @ 4:30 p.m. – AWAY (Augusta) VOLLEYBALL RHHS vs. Heritage 10/21/20 @ 5:00 p.m. – AWAY (Conyers)