The Georgia Department of Public Health and the Bryan County Health Department will be offering school vaccination and screening clinics for students entering Kindergarten, 7th grade, 11th grade, and students entering school in Georgia for the first time. Clinics will be offered in both Richmond Hill and Pembroke. Richmond Hill: June 27th & July 18th Click link for appointment in Richmond Hill: COASTALHEALTHDISTRICT.AS.ME/RH-SCHOOL Pembroke: July 28th & July 19th Click link for appointment in Pembroke: COASTALHEALTHDISTRICT.AS.ME/PEMBROKE-SCHOOL

Bryan County Schools is excited to introduce Mr. Russ Winter, New Principal of Bryan County Middle High School and Mr. Jonathan Lea, New Principal of Richmond Hill Middle School. You can access the full BCS Press Release by using the following link.
https://5il.co/1v2yy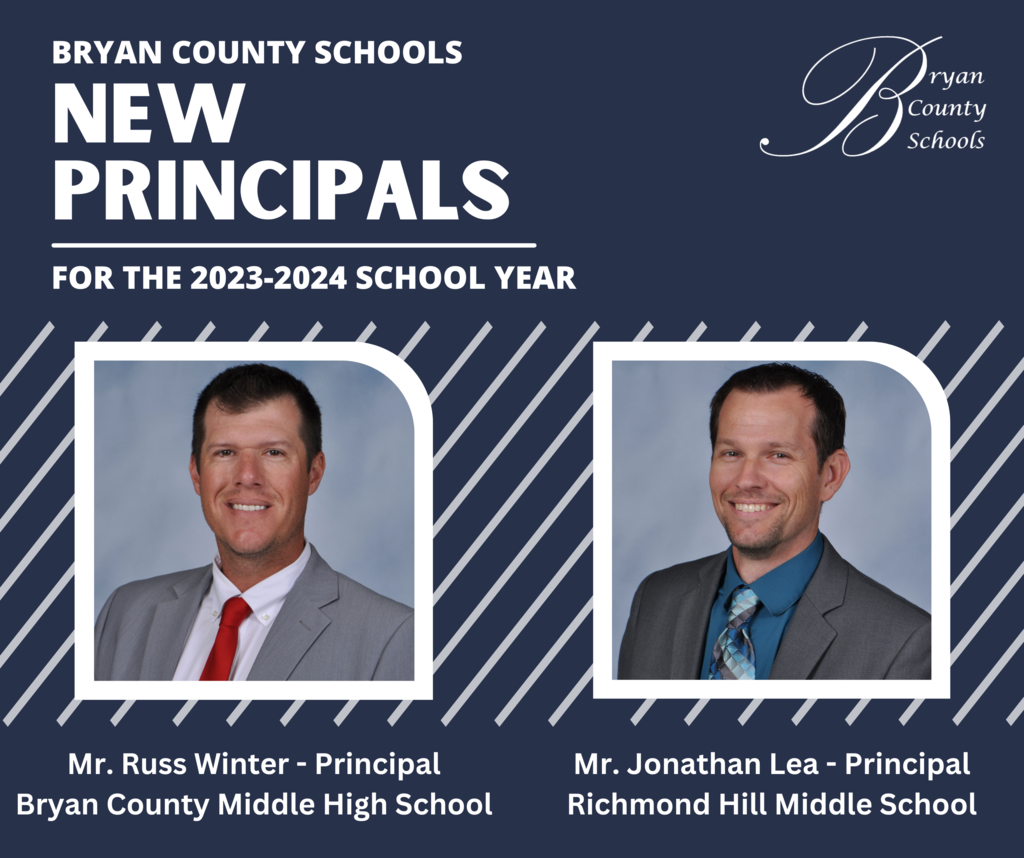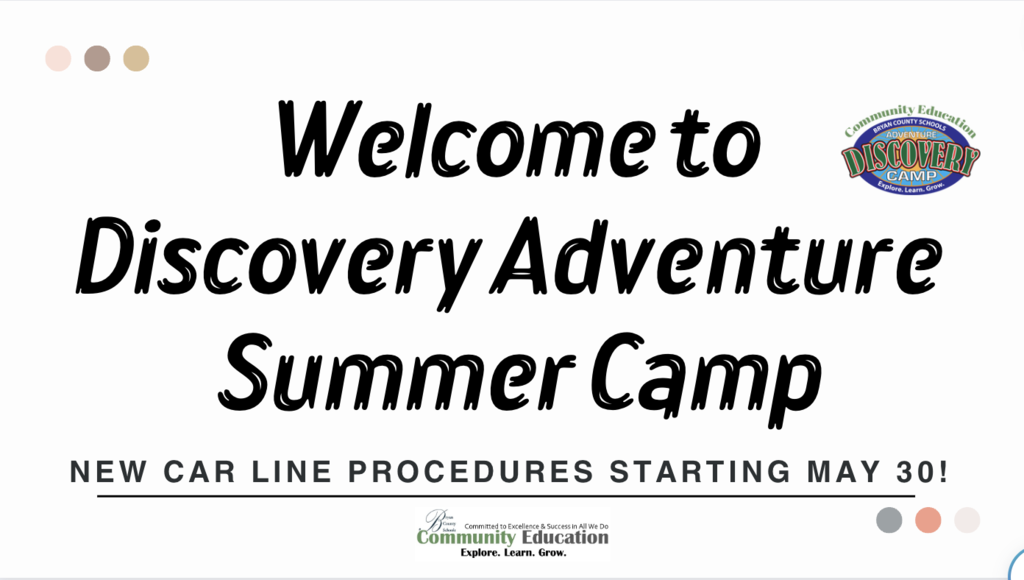 Congratulations, Class of 2023!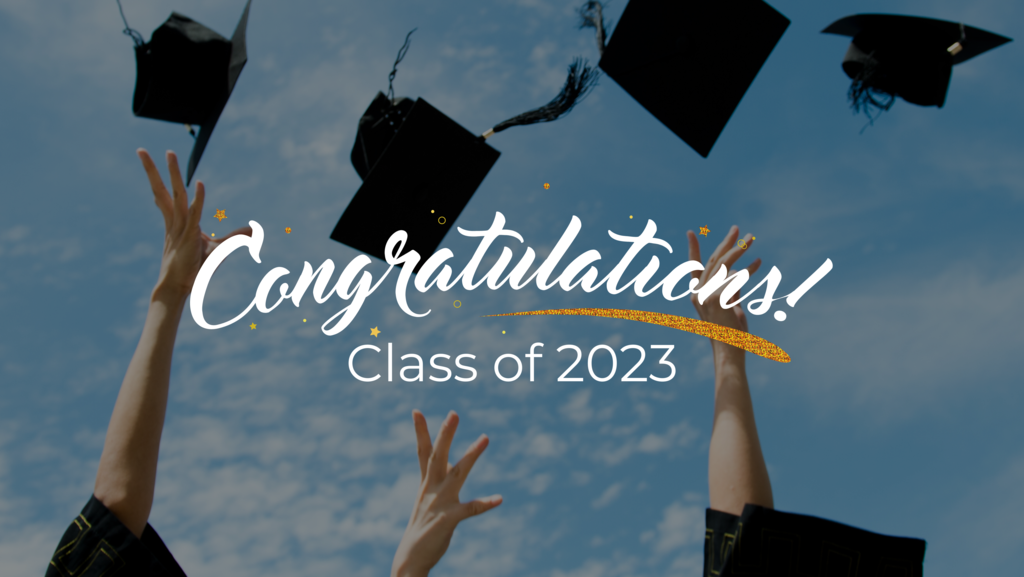 Have a safe and enjoyable Summer Break!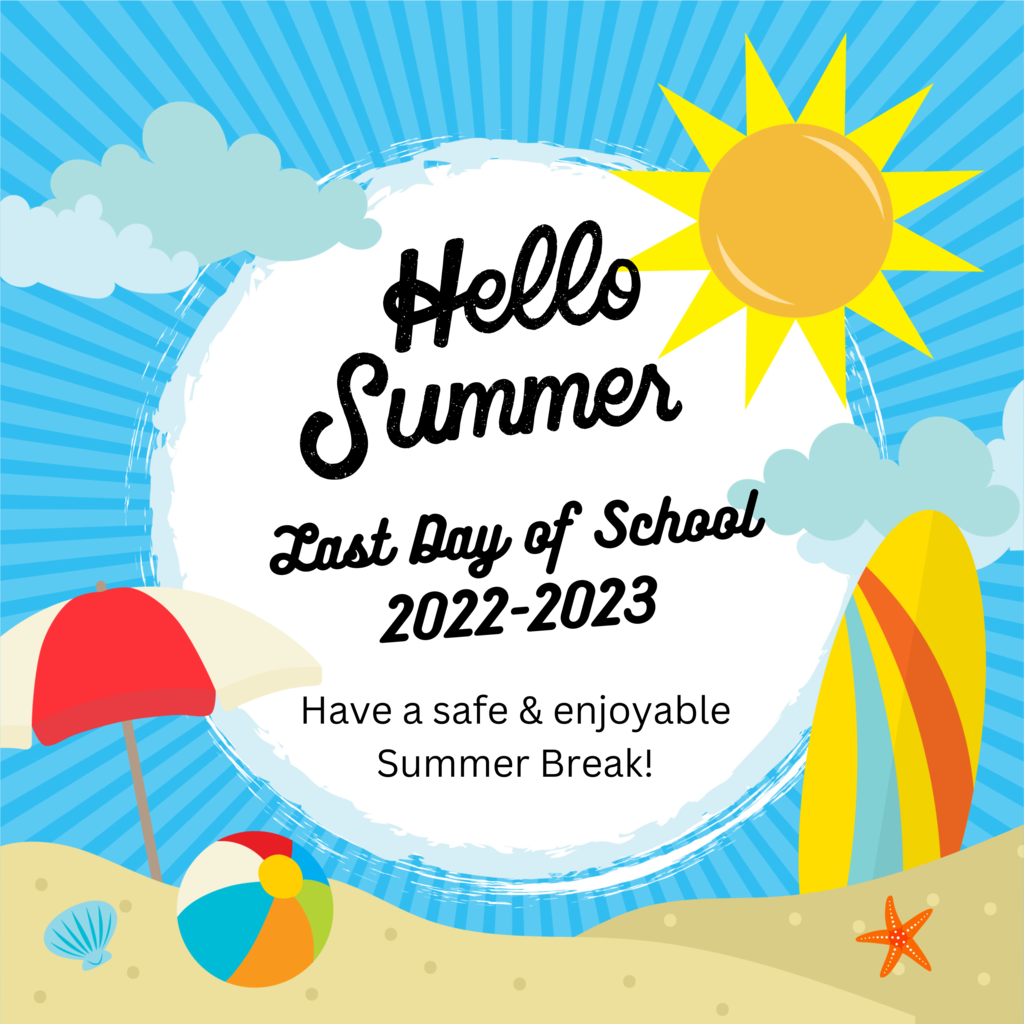 Are you interested in working for Bryan County Schools? Join us for a Job Fair Thursday, June 8, 2023 from 11:00am-1:00pm at Bryan County Elementary School - 250 Payne Rd, Pembroke, GA 31321 or Frances Meeks Elementary School - 488 Warren Hill Rd. Richmond Hill, GA 31324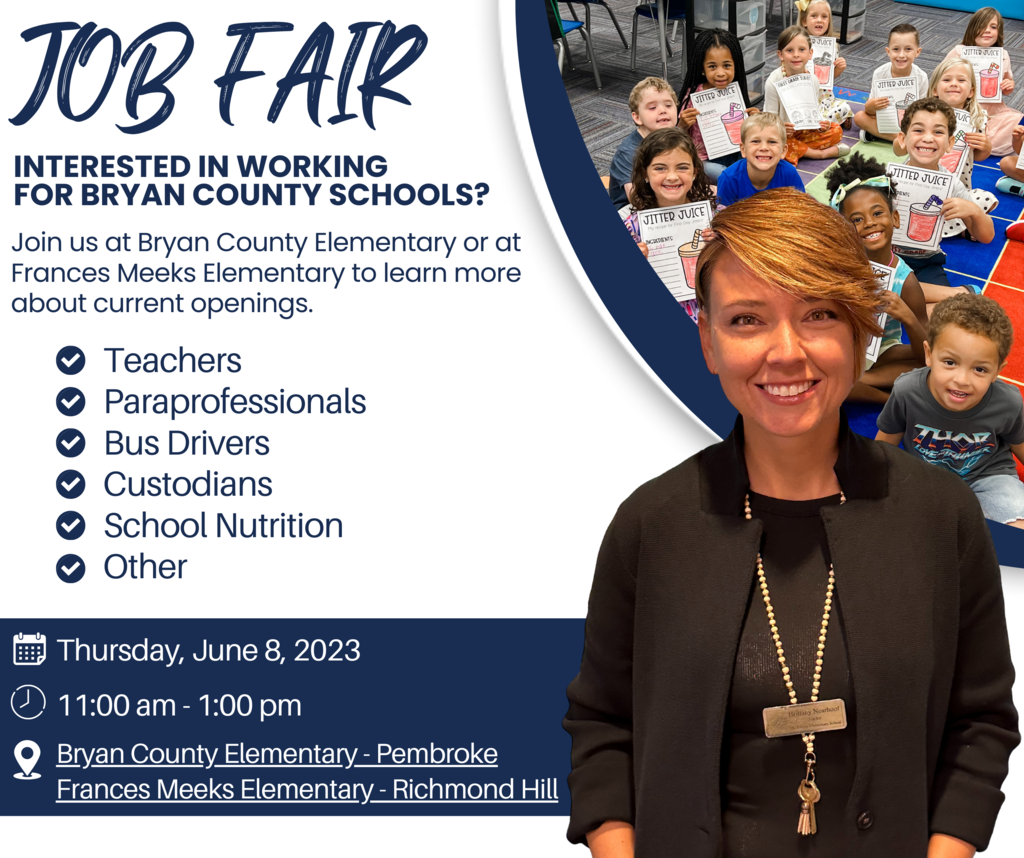 Congratulations to the 2023-2024 Members of the Student Advisory Council.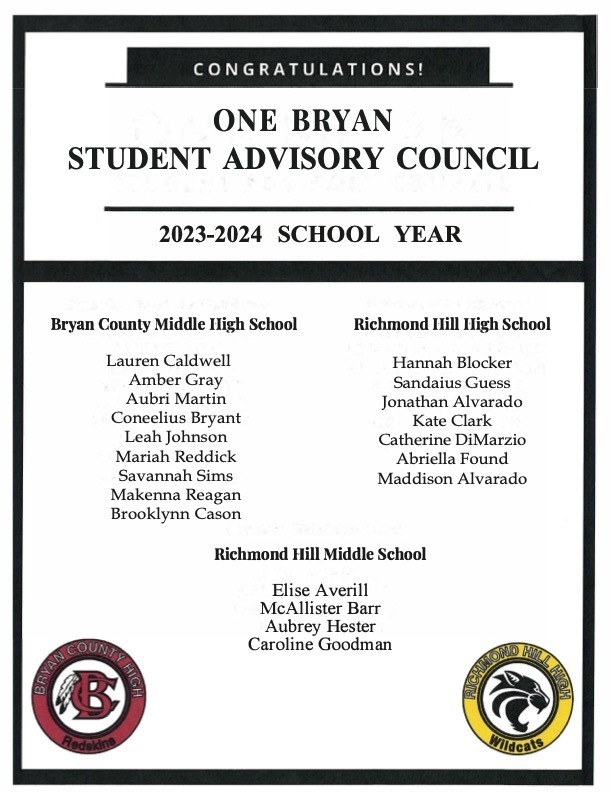 Congratulations to our Class of 2023 Valedictorians and Salutatorians!

Congratulations, Wildcats!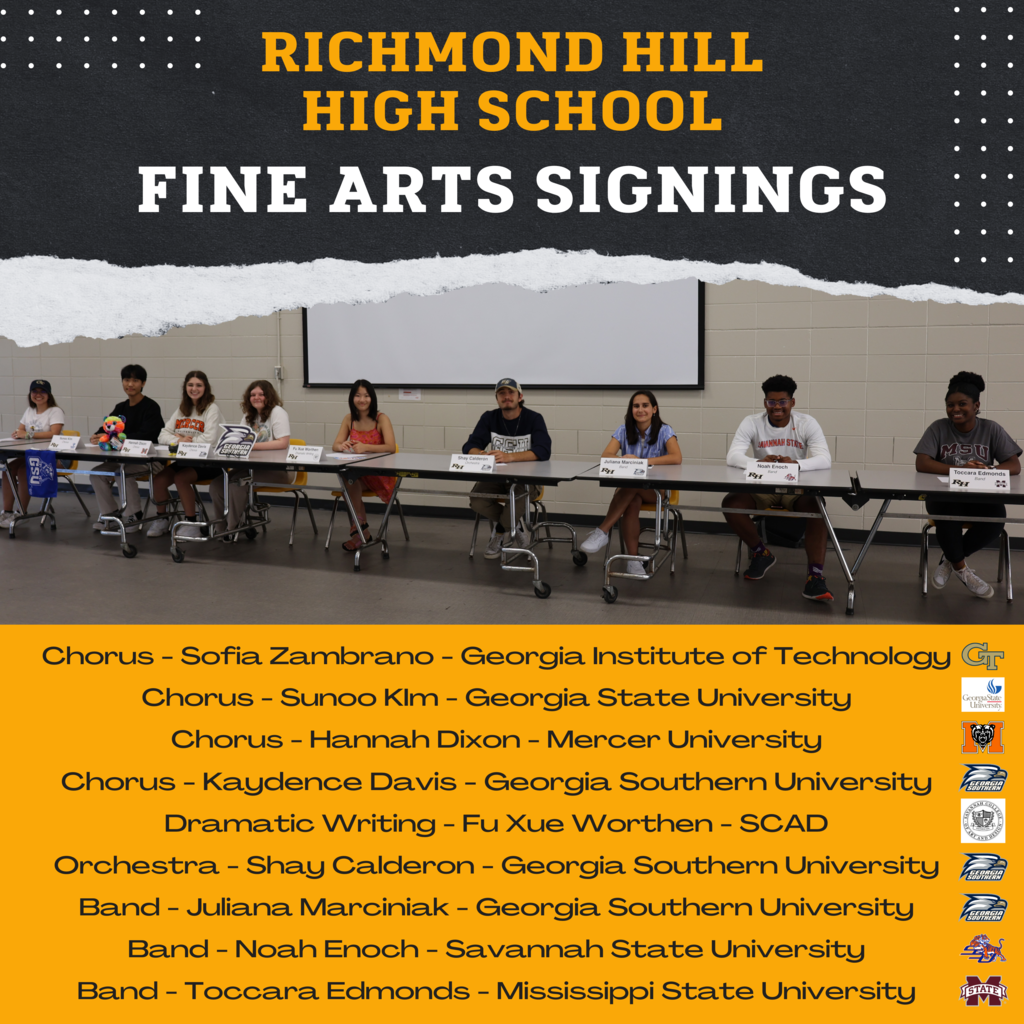 Congratulations, Wildcats!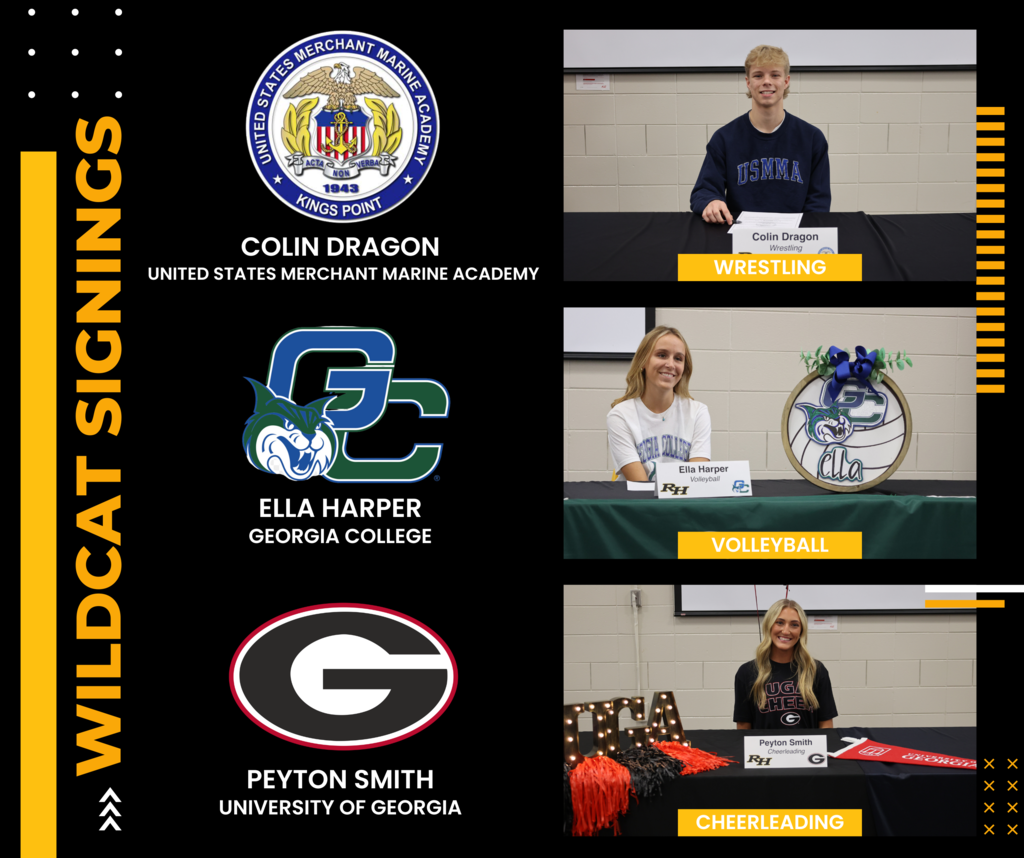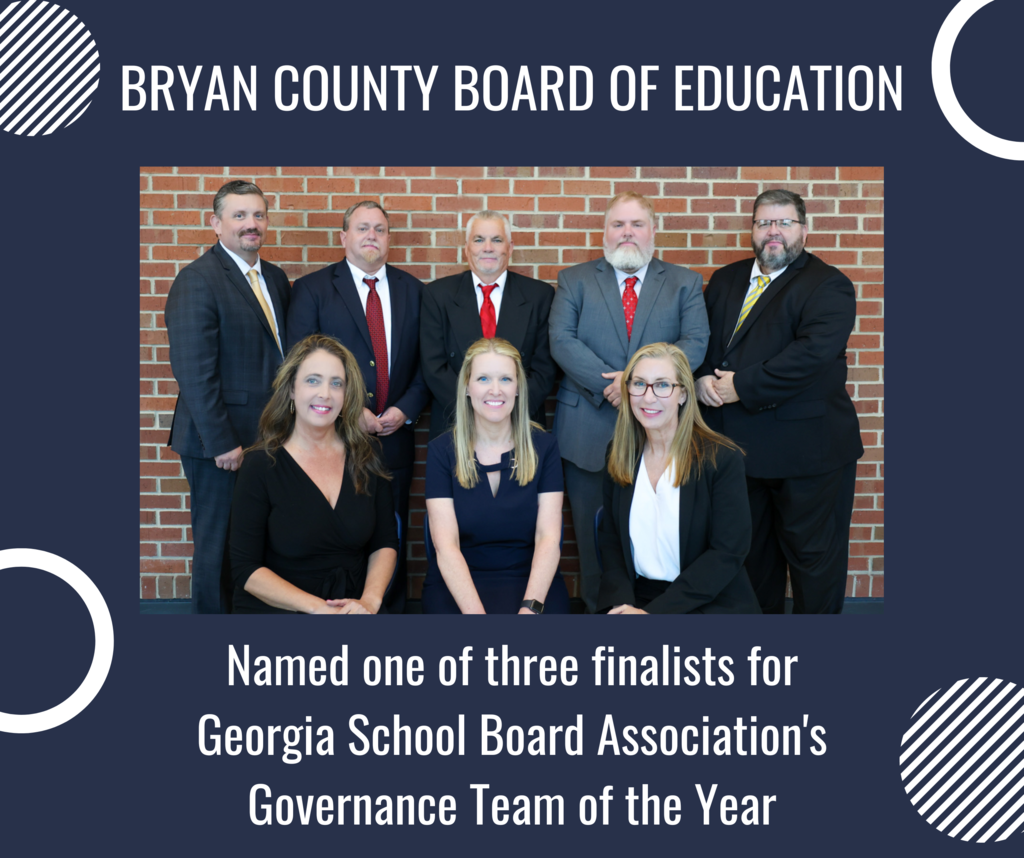 Thank you, Bryan County Schools Educators!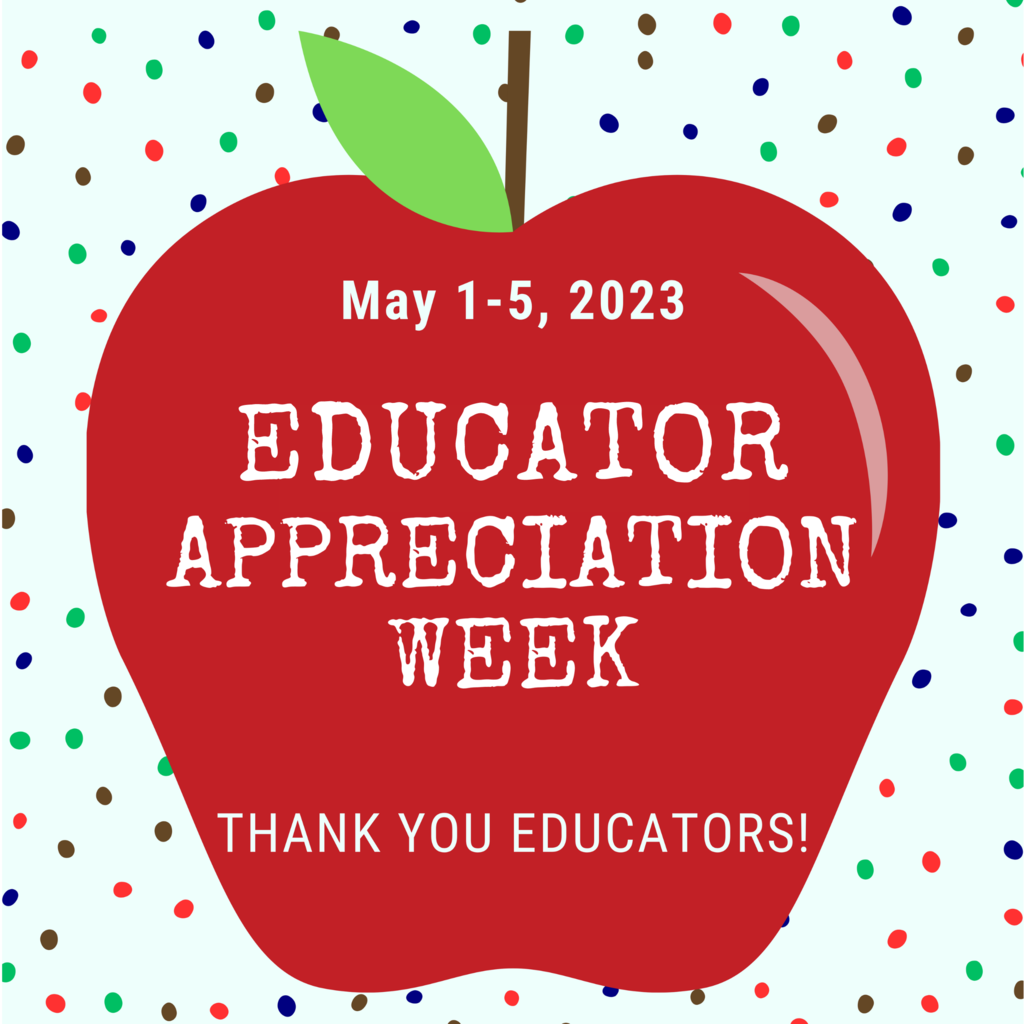 Come support the undefeated (15-0) RHHS girls soccer team as they take on Denmark High School in the Elite 8 GHSA State Playoffs. The girls team defeated Brookwood High School in a 1-0 win to earn a spot in the Elite 8 for the third straight year. The girls will play at Wildcat Stadium, Monday, April 24th at 5:00pm. RHHS boys soccer team went on the road to Brookwood Tuesday and knocked out Brookwood High School, with a 3-2 win in overtime. This is the first time the boys have advanced to the quarterfinals since 2019. RHHS boys will play at Lambert High School Tuesday, April 25th at 6:30pm. Lambert was named state champions in 2017 and 2018 and have remained a powerhouse team. Check out the article in Bryan County News!
https://www.bryancountynews.com/sports/double-date-elite-8-rhhs-soccer/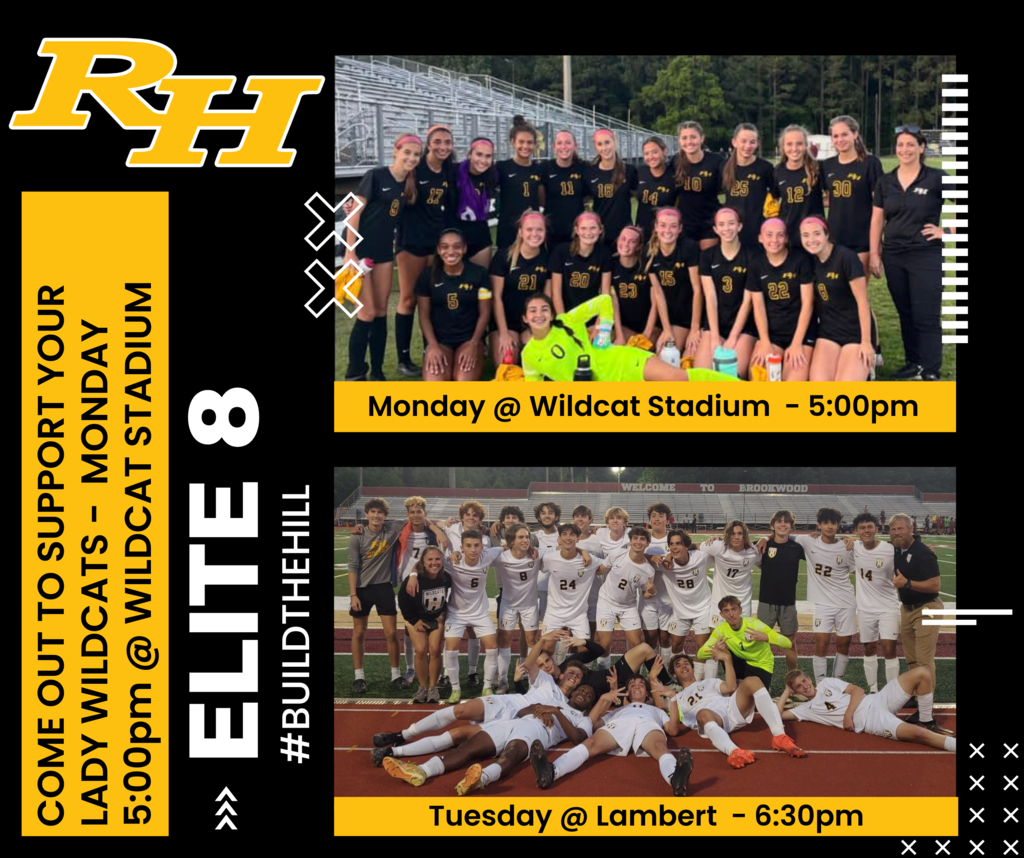 Purple Up Day - April 15, 2023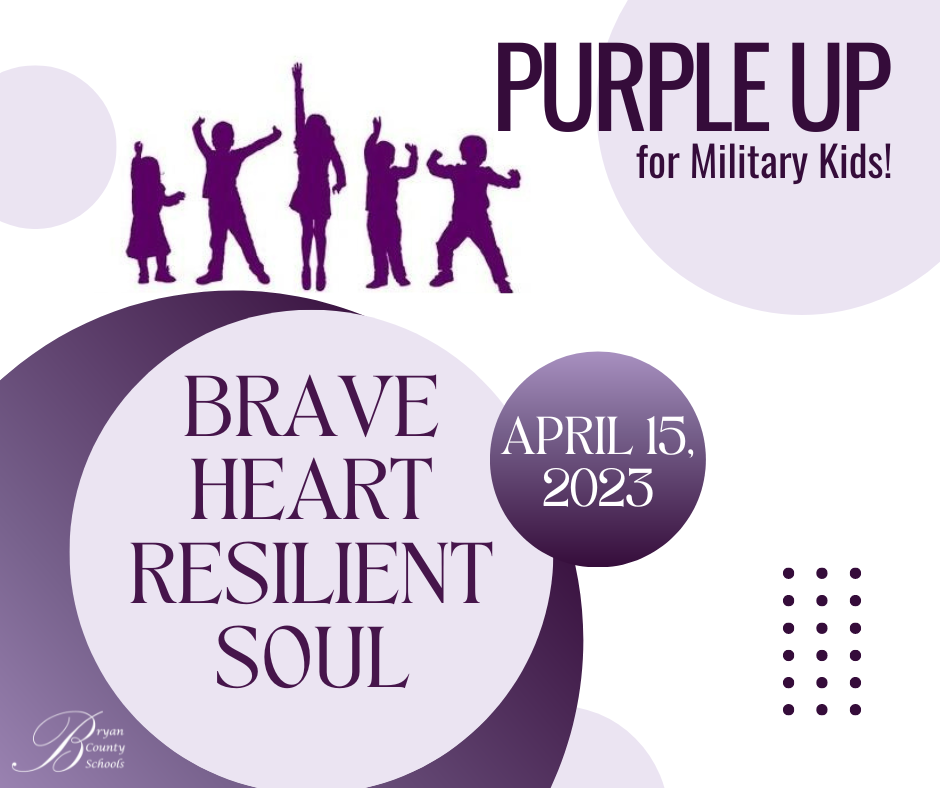 Bryan County Schools Celebrates Month of the Military Child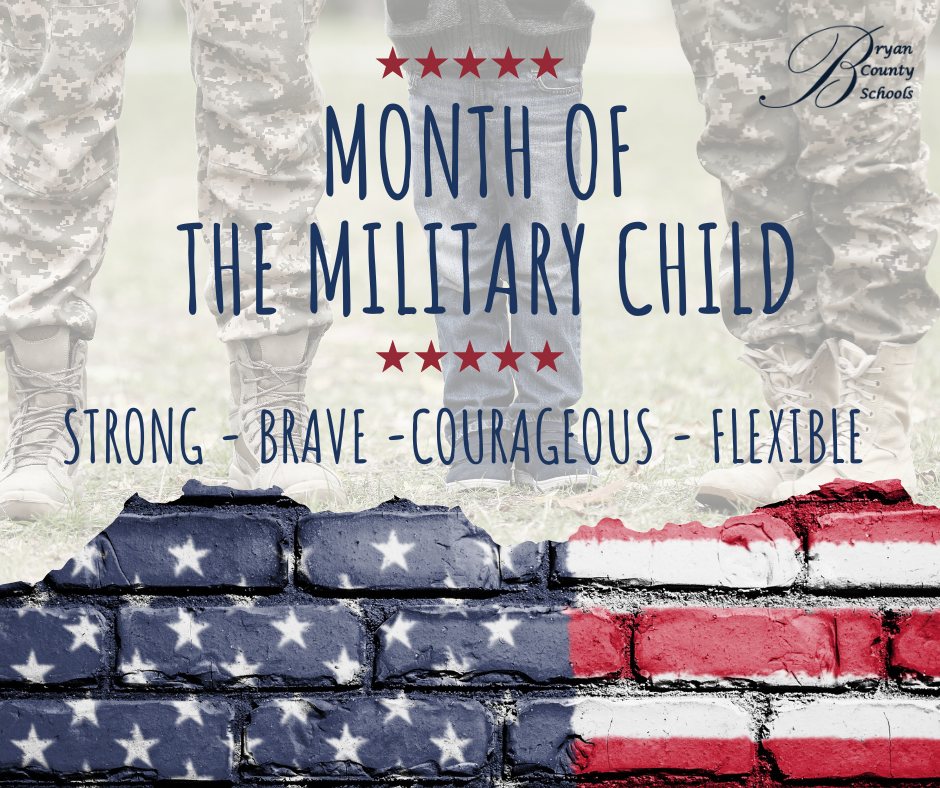 Have a safe and enjoyable Spring Break! Students return April 10, 2023.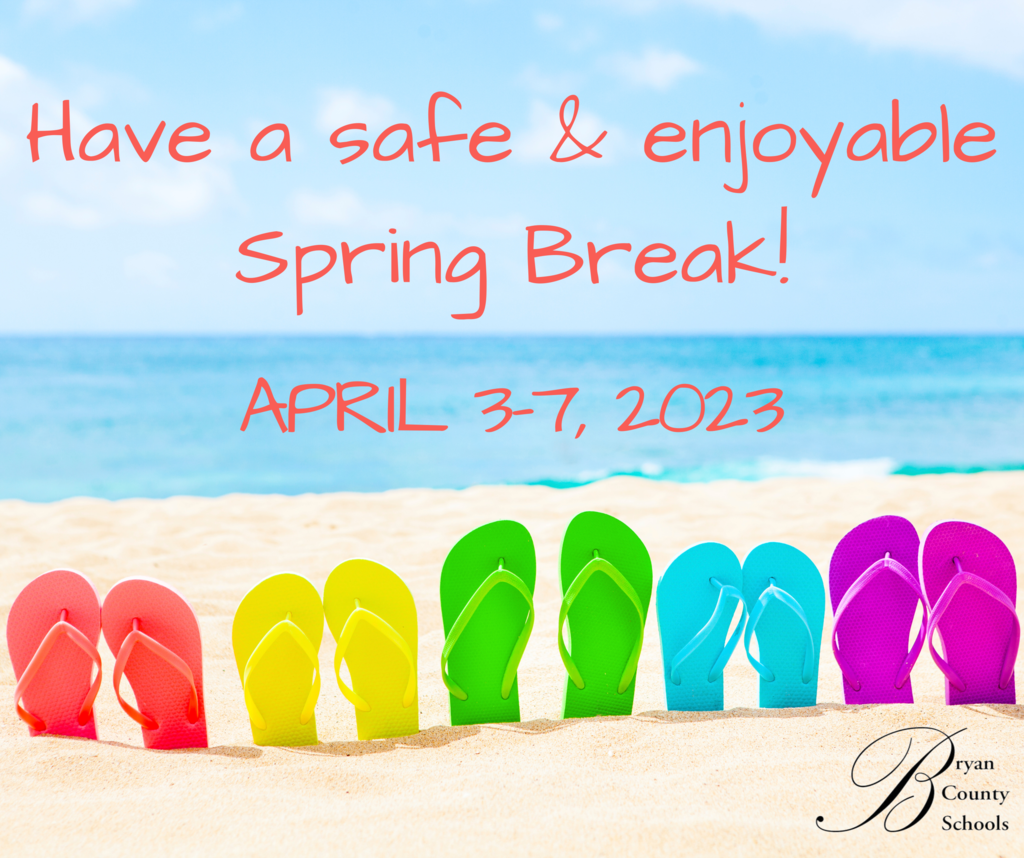 Have a safe and enjoyable break. Students return to school on March 20, 2023.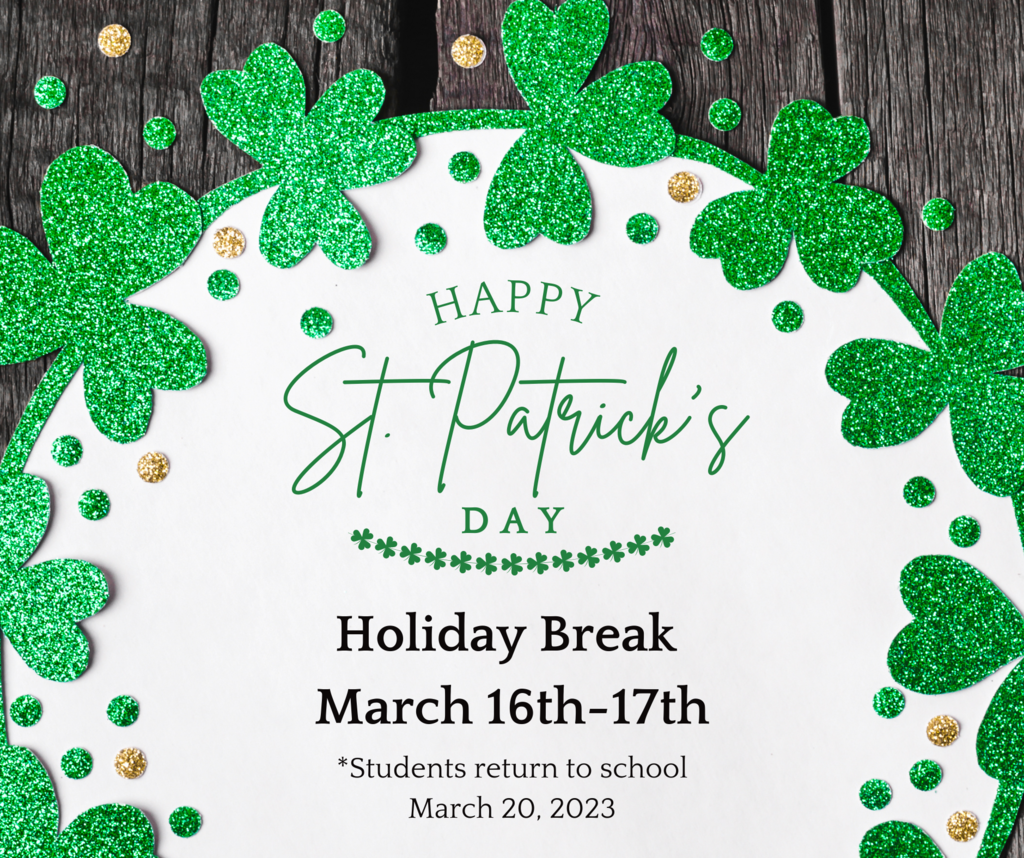 Georgia School Board Appreciation Week - Thank you, Bryan County Board of Education!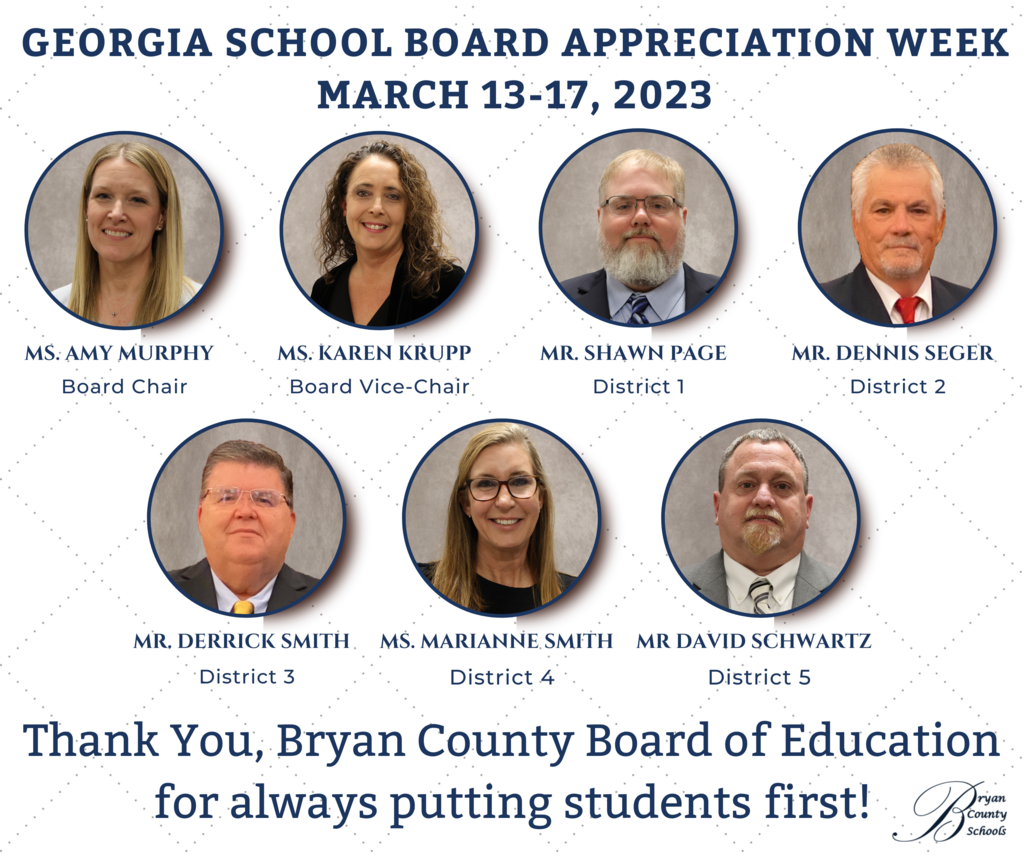 Congratulations Ivy Fang, 1st place winner of the Division 2, Georgia Association of Pupil Transportation (GASP) School Bus Safety Poster Contest.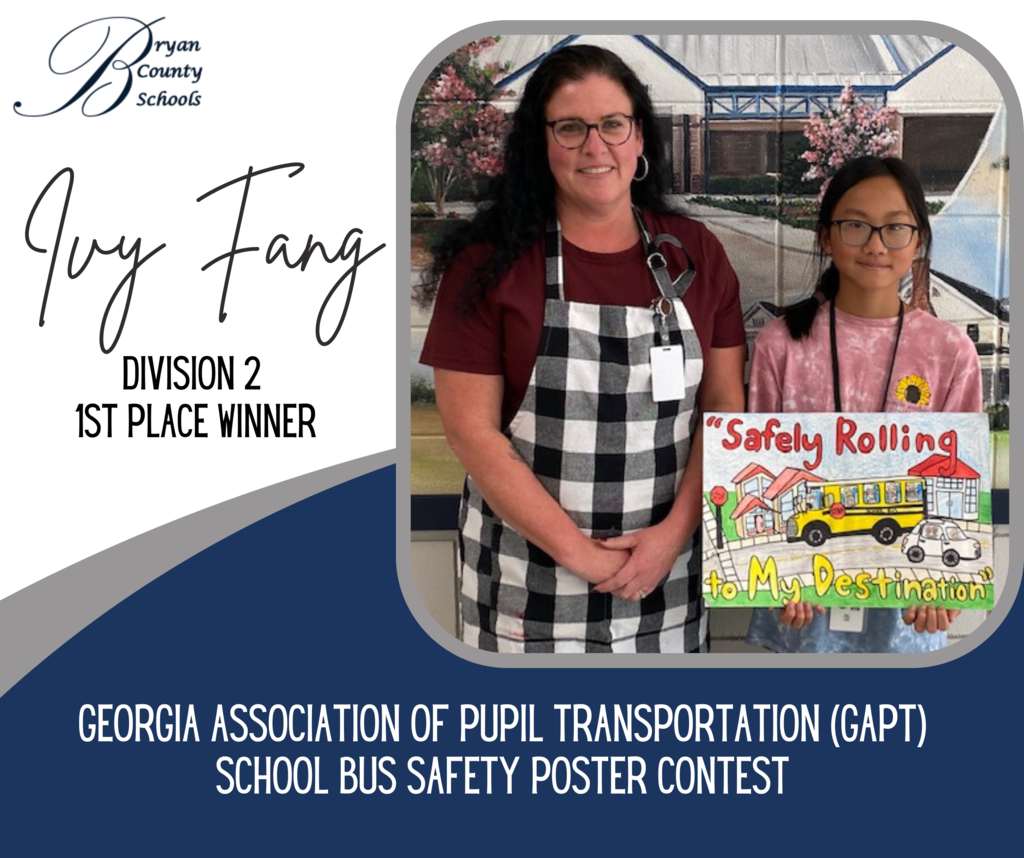 Congratulations to all of our Young Georgia Author Winners!