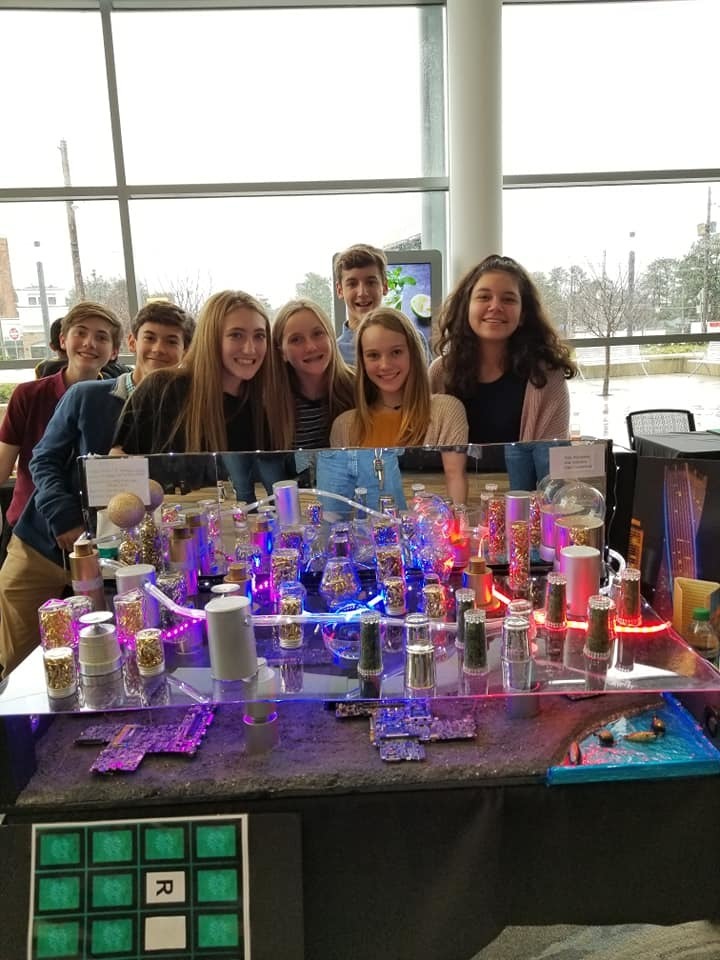 ​Future City Fun
Hannah Blocker and Emma Booker
Friday, February 22, 2019
Richmond Hill Middle Schools' STEM program is very competitive in showing how talented and creative their students can be. The STEM program competes in a national competition called Future City. Future City is a competition that allows students to expand their thinking by creating a city that is resilient to a specific ecological problem. Future City takes place all across the world in places such as the U.S.A, China, Canada, and other countries in the Middle East.
For the 2018-2019 year, the students are required to create a city that is capable of withstanding a natural disaster. Students are also required to create an office of resilience, a sustainable power grid, a virtual city, an essay over the design and creation of the city, a presentation on the virtual city zone shots (which are images of our virtual cities goals), and design a model that is capable of showing how the city is resistant to the disaster of the group's choice.
In order for competitors to have a valid entry they are required to have a 4-5 person group, have an essay that must be between 1,350 and 1,500 words, a detailed presentation showing the accurate accomplishments from their virtual city, they must be registered by an educator or mentor, and have a 3D model of the group's city with a height of no more than 20 inches.
We decided to look beyond the websites and look at what Future City is really all about. We began by interviewing our very own STEM teacher, Mr. Melcher. When faced with the question of what he looks for in a future city team, Mr. Melcher replied with "Someone who is good at writing, enjoys researching, and likes the virtual and actual model." When Mr. Melcher was asked what is the most important aspect of future city he responded with "The presentation and how much he feels the team stands out."
We didn't stop there. We decided to interview a team and its members in order to compare the difference in what the teams think is important and what Mr. Melcher feels. We approached Maddie Linear and Rory Schuler to ask them what they think the most important part of Future City is for the team. They replied with "Working together well and being able to communicate well." When the team was asked how they think they are doing as far as the winning aspect of Future City, they responded with "Good but we they still have room for improvement."
Future City has many wonderful aspects, and is a great way for youth to express creativity and ideas. It is a great way for young adolescents to incorporate competition with education and create a new take on society's thinking of problems.
In January, Mr. Melcher and his students traveled to Atlanta to compete in the 2018-2019 future city competition. While the RHMS students only placed in 5th in the whole competition, they won many awards such as best use of transportation and best use of materials. Even though the Richmond Hill students didn't bring home first place, they really made Richmond Hill Middle School proud. #WeAreRHMS