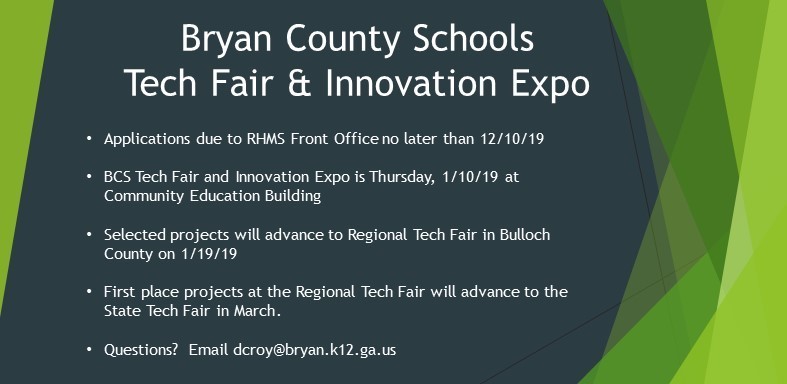 BCS Tech Fair and Innovation Expo
Diane Croy
Monday, November 05, 2018
The BCS Tech Fair - Innovation Expo is Thursday, January 10th! It is time to start working on those projects again this year.
Please click on the link below to read the attached flyer and complete the application by December 10, 2018. Bryan County Schools will follow the same category guidelines as the state competition.For information on project categories, please visit the GA Educational Technology Consortium website.
Following the BCS Expo, selected projects will advance to the Regional Tech Fair in Bulloch County on Saturday, January 19th. From there, first place projects will advance to the state competition in Macon in March of 2019. Last year we had TWO 1st place projects at the state level!! We look forward to seeing our students display of creativity and digital leadership.
Information on the Tech Fair can be found HERE: https://drive.google.com/file/...
Complete the online application HERE: https://goo.gl/forms/jrQmi6CgJ...
Questions? Please email Diane Croy, Instructional Technology Specialist at RHMS. dcroy@bryan.k12.ga.us