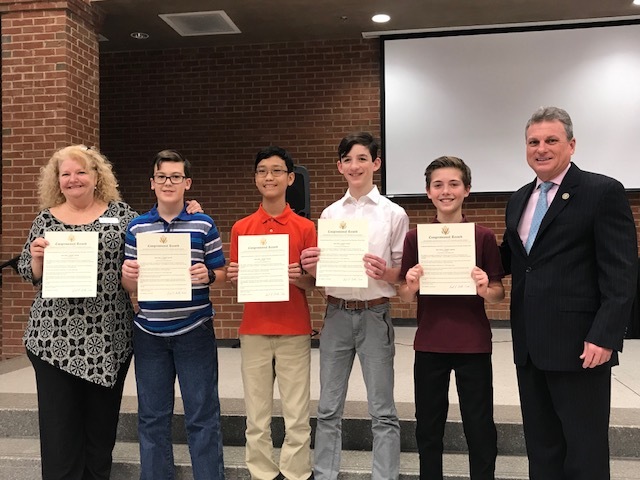 2017 Congressional APP Challenge Winners
Press Release
Friday, January 12, 2018
Over the last four months, 190 Members of Congress hosted the Congressional APP Challenge in their districts where students competed to code original apps. 4100 students participated, submitting over 1000 original apps.
The winning team in Georgia's First Congressional District is from Richmond Hill Middle School, and created the app, "Wing Finder". This app enables individuals who enjoy viewing butterflies to find more information about those butterflies, comparing their wing colors to a database containing numerous facts about them.
Representative Earl L. "Buddy" Carter visited Richmond Hill Middle School on Friday, January 12th to present the award and Congressional Record to these deserving students.
Pictured are students winning the APP challenge with Teacher Sibyl Finnegan and Representative Carter. From left to right, Ms. Sibyl Finnegan, Ryan Cranford, Joseph Kim, Luca Dichiera and Cole Goldhill. Congratulations to these students, and to their teachers, Ms. Finnegan, Ms. Diebold, Ms. Clark, and Mr. Hodgdon! RHMS is proud of you! #WeAreRHMS
Check out their WingFinder Commercial Here.