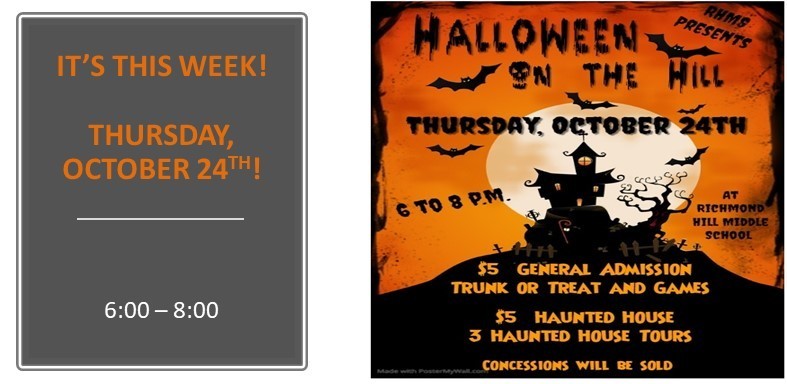 Halloween on the Hill is Thursday!
Diane Croy
Friday, September 27, 2019
RHMS will be hosting Halloween on the Hill again this year. It will be on Thursday, October 24th from 6:00 - 8:00. Admission is $5.00, and you may visit the three Haunted Houses for an additional $5.00. Tickets may be purchased on My Payments Plus until October 22nd.
We will also have Trunk or Treat outside for you to participate in! Decorate your car and enjoy all the trick or treaters. If you want to register your automobile for a reserved space at Trunk or Treat, please see information below. (Scroll Down!)
Concessions will be sold.
Come join us for Halloween on the Hill! October 24th! 6:00 - 8:00!
Trunk or Treat
The RHMS Trunk-or-Treat is a fun-filled evening of eerie delight for Richmond Hill children! Trunk-or-Treat is a fun, safe way for children to go trick-or-treating. Businesses, individuals or groups may register their automobile and are issued a parking space to hand out their treats. Participants are encouraged to get into the Halloween "spirit" by decorating their vehicles and/or themselves for the event. Set up begins at 4:30 and the event starts at 6:00.
Sign up at this link: https://forms.gle/Z9s58gu1G6VyxwJz9
Please contact Riann Willis at rwillis@bryan.12.ga.us for more information. #SpookyWildcats #RHMSHOH #WildcatsWin #WeAreRHMS
#SpookyWildcats #WildcatsWin