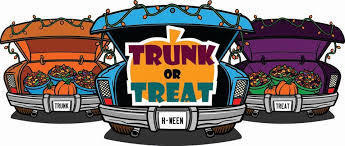 Trunk or Treat - We need you!
Diane Croy
Monday, September 23, 2019
The RHMS Trunk-or-Treat is a fun-filled evening of eerie delight for Richmond Hill children! Trunk-or-Treat is a fun, safe way for children to go trick-or-treating. Businesses, individuals or groups may register their automobile and are issued a parking space to hand out their treats. Participants are encouraged to get into the Halloween "spirit" by decorating their vehicles and/or themselves for the event. Set up begins at 4:30 and the event starts at 6:00.
Sign up at this link: https://forms.gle/Z9s58gu1G6VyxwJz9
Please contact Riann Willis at rwillis@bryan.12.ga.us for more information. #SpookyWildcats #RHMSHOH #WildcatsWin #WeAreRHMS