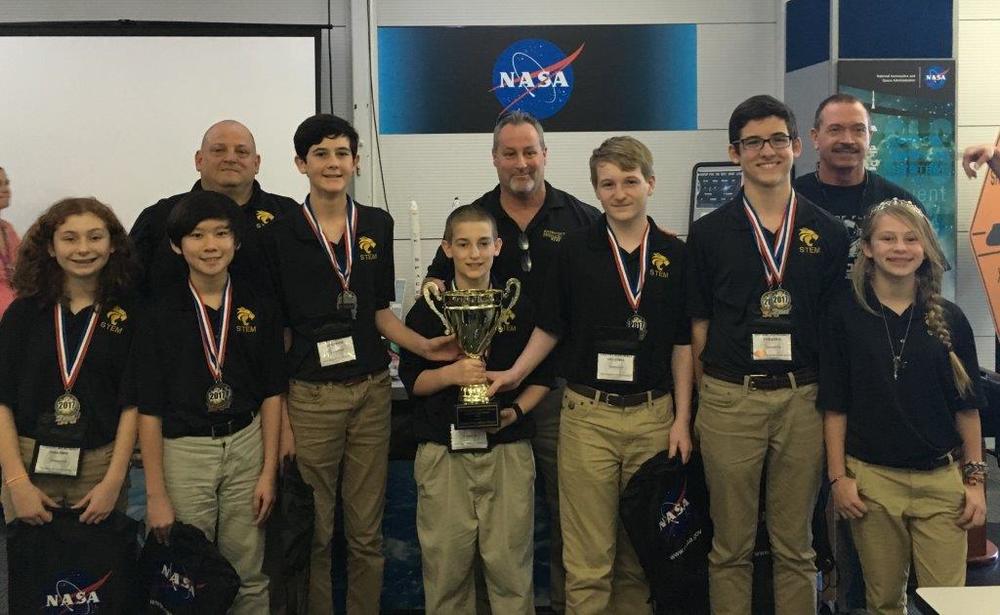 RHMS STEM wins National Student Astronaut Challenge
Diane Croy
Tuesday, February 14, 2017
A team of Richmond Hill Middle School STEM students were recently crowned National Champions in the NASA Student Astronaut Challenge at Kennedy Space Center. Over 70 teams participated in the competition, which consisted of four events. These events included an engineering challenge, a focused experimental lab proposal, a mission in the NASA Space Shuttle simulator, and a landing challenge.
RHMS was one of four Georgia teams to attend the competition. RHMS finished 3rd in the research proposal and 2nd in the landing challenge. William James Middle School placed 1st in the research proposal and Isle of Hope finished 2nd in the simulator challenge.
The overall award was determined by averaging the scores of the four events. Benjamin Franklin Middle School (Florida) finished in 3rd place, Holy Comforter Episcopal School (Florida) finished in 2nd place, and Richmond Hill Middle School was named champion.
We are very proud of our students and teachers for winning this prestigious award. The championship team from RHMS included Ethan Falls, Savannah Flanagan, James Ganun, Jackson Martin, Riley Mayberry, James Shin, and Jacob Welch.