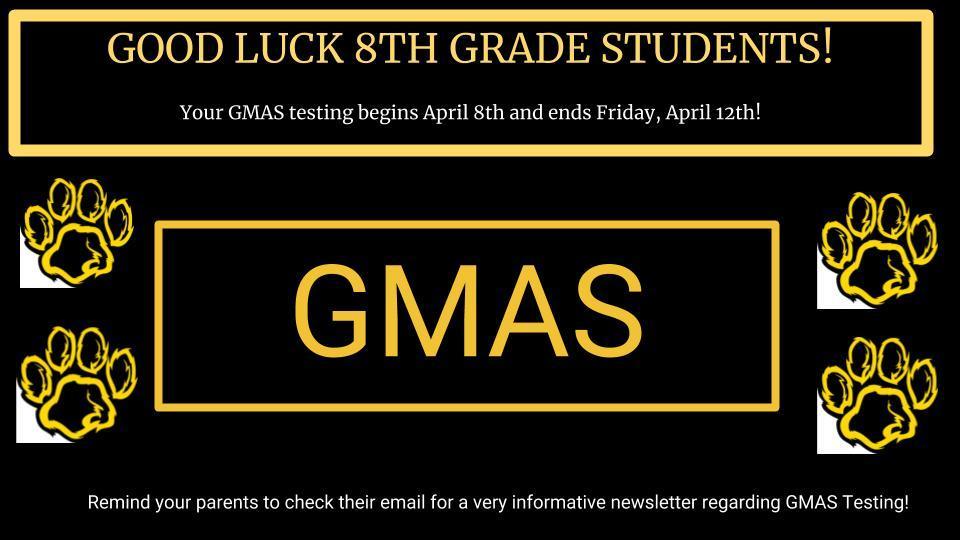 8th Grade Testing begins Monday, April 8th
Diane Croy
Friday, April 05, 2019
8th Grade Students and Parents,
Remember 8th Grade GMAS testing begins Monday, April 8th and ends Friday, April 12th.
Please carefully read the RHMS Milestone Messenger for important information about testing dates and suggestions for success.

******IMPORTANT MESSAGE ABOUT ELECTRONIC DEVICES******

NO CELL PHONES, SMARTWATCHES, TABLETS, OR OTHER ELECTRONIC DEVICES ARE ALLOWED DURING TESTING.
Any student who brings a device to school during testing MUST turn it in to the teacher and may collect it after the testing session has ended. Failure to turn in electronic devices could result in a student's test being invalidated. Students are strongly encouraged not to bring electronic devices to school during the week of testing.

A few important reminders:
● Eat a healthy breakfast.
● Get plenty of sleep the night before the test.
● Arrive on time to school.
● Students cannot be checked out during their test. Please plan accordingly.