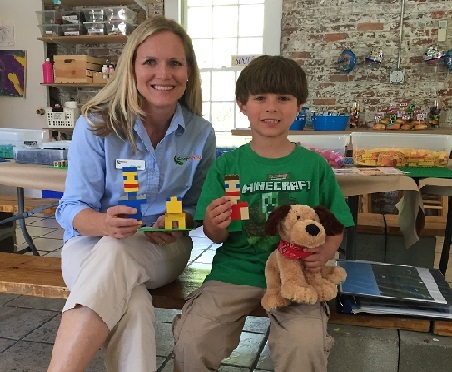 ​Instructor Spotlight: Ann Gratz - Building Minds with Building Blocks
Mark Griffin
Monday, January 30, 2017
Five years ago, elementary school teacher, Ann Gratz was quick to observe how students were quick to develop important learning skills through play with building blocks. Soon after, she launched Snapology of Richmond Hill with the goal of helping kids learn, create and innovate while having fun.
In conjunction with the STEAM curriculum, (Science & Technology interpreted through Engineering & the Arts, based in Mathematical elements), Ann began using the building blocks of LEGOS© to develop hands-on learning in the classroom. Since then, hundreds of Community Education students have developed strong focus and thinking skills while having loads of fun.
Ann, a certified elementary education teacher, Med., is committed to helping students develop strong thinking skills and of letting students learn while doing. "Working with LEGO's helps students have so much fun, they are able to focus for long periods of time. LEGOS© are so attractive in helping students develop their own projects and build self-esteem when they build and create the projects themselves."
Community Education System Coordinator Mark Griffin agrees, "Ann does a great job helping students develop critical thinking skills. Snapology is one our most popular Community Education courses. Snapology students have lots of fun… I highly recommend this class."
Ann will offer full day Snapology camps this summer as part of Community Education's Summer Camp program.
If you are interested in joining Community Education's Snapology class call Trudi at 942-459-5210.